Make Money Online
Home
/
The Business Side Of Being an Author

/

Make Money Online With Your Author HomePage




By EelKat Wendy C Allen
"I am a new author. I just self-published my first book and am now building my author website. I want to monetize it but I don't know where to start. Everyone told me to use Amazon's affiliate program but I live in Minnesota and Amazon won't let me join because of some tax law in my state. How do you make money with your website?"

Before I answer your question, I would like to advice you on the fact that if you are going to monetize your web site, you are required by law to have an FTC Disclosure posted on your website, so be sure you do that BEFORE you sign up for any affiliate programs.

It's not just Minnesota; California and Maine too, and 2 other states I forget which ones now. 5 states so far, and 11 more expected to follow between now and Jan 2014. Amazon has closed all accounts for these states due to the new "Nexus Law" that has been passed by these states.

So far it is just aStores and Affiliate links, but there's talk of closing the option for authors in these states to upload books to Kindle (because they are internet based with no physical items - which means they too are effected by this law - which in theory means iTunes may be forced to stop selling music in these states as well - this is a bigger issue than just Amazon or affiliates - it effects all sales of all non-physical/downloadable items as well). Amazon said their biggest concern here was Stephen King lives in Maine and his ebooks are among their top sellers - they stand to lose millions if they have to close Maine author's kindle accounts as well.

Overstock.com closed accounts for the same states.

This week of the 1,000+ affiliate programs I was signed up with through LinkShare, all but 99 of them has canceled all Maine, Minnesota, California, etc accounts.

On Commission Junction where I had 3,255 affiliate programs, 600 of them were canceled this morning, and more are expected to shut down Maine accounts this week.

Over on Share-A-Sale I'm down to fewer than 30 programs still active, out of more than 900

No word yet on if Google will be closing AdSense accounts for our 5 states too or not....Google is waiting to see.

All in all more than 4/5th of my affiliate programs were canceled in the past 3 days - accounts I have had since 2004 - because the Nexus Tax Law just went into effect in our 5 states on Oct 6, 2013. Affiliate links on our sites are no longer generating incomes, thanks the the Nexus Tax Law. Amazon has asked us to keep out links on our sites, because they are actively trying to work with the states and get our accounts active again.

It's not just Amazon. This is way bigger than just Amazon. If they keep shutting down at this rate, there will be no online income options (other than direct sales) for our states by the end of the year.
That said there are still lot's of ways to make money online, affiliate programs are only one method and there are still several thousand of them which are accepting applications from residents of Maine and the other Nexus Tax Law states.
Below are the affiliate programs I use, on this website you are currently reading:

Affiliate Programs I Use on This Site:

AffiliateWindow

AllPosters.com

Amazon.com (no longer active in Maine and 4 other states)

Art.com

AvantLink

Betty Mills

ClickBank

Commission Junction (my best money maker)

eBay Enterprise (formerly known as PepperJam)

Impact Radius

LinkConnector Network

LinkShare

Performance Horizon

PopShops

SBI!

Share-A-Sale

TradeDoubler

webgains


There are many other programs out there besides these, these are just the ones I have personally signed up with and am actively using here on my eelkat.com website.
Some of these are only generating pennies a week and averaging at fewer than $200 a year, but that is largely because I have a very niched topic for my website and I am therefore not heavily promoting these affiliates. I simply keep them on here because they do bring in some income and every penny counts.
My big money makers affiliate-wise are in order of income size coming in: Commision Junction, Share-A-Sale, LinkShare, and AllPosters.com & Art.com, so if you were to go with only 4 affiliate programs, these are the 4 I'd recommend as being the best at making money online for you.

Here is an example of using Art.com & AllPosters.com  to illustrate an article. --->

And below is an example of using Art.com & AllPosters.com to place a "dynamic store page" iframe on your website:

Amazon.com was #5 until the program was shut down for us Maine residents.

I will show you what each of these programs looks like on your page and you can decide which are best for your site.
Below is an example of what a PopShops affiliate link looks like:

Recommended Books for Self-Publishers

Below are books I use as reference when self-publishing my own books, articles, and short-stories. A quick heads up, these are not linking to pages where I review each book, here on my website! I have a list of those review pages elsewhere. Each of the books shown below are linked directly to the site/book seller which carries it for sale, so clicking on any of the books below will take you away from my website.

Pay Per Click

I use three Pay Per Click programs: Google, Infolinks, and Chitika.
I have no control over which companies, services, products, links, or banners are displayed by Google, Infolinks, or Chitika.
InfoLinks are those little green double underlined text links you see at a rate of 7 per page on every page on this website. I can't really show you an example of this except to tell you to find one of those links and hover you mouse over it to see the little pop-up that shows up. I have no idea when or where these links will appear as they show up at random in completely different places every time you refresh the page.

I can however show you what a Google ad looks like. Here is one now. --->

Sometimes it displays text links and other times it displays banners. It never displays Flash ads because I disabled that feature from my Google dashboard, likewise "interactive ads" are never displayed because I disabled those as well. I dislike moving, dancing, singing, blinking, flashing, music playing ads and am glad Google allows us to block those ads from being displayed otherwise I would not add Google ads to my site.

If you like Flash ads and want them on your site, simply do nothing and Google will display those as well.

Google, Infolinks, and Chitika each have their own "secret algorithm" which sends spiders to scan my page, figure out what it thinks my keyword topic of the page may be, based on the text I write, and than displayed text link and/or banner ads that the spider thinks most closely matches the topic of the site. Sometimes these results are VERY odd and I can not figure out how it determined it's chose.
For example, a frequent ad the Google box displays on my site, is for "SteamPunk Corsets", a couple of times I have seen ads displayed for "human rodent traps", many times there are ads for "men only, adult themed video games" (whatever those are) and often ads for women's bras show up. Why does Google choose these ads?

I have no clue, because steampunk, corsets, rodents, traps, video games, and bras are not topics I ever talk about on my website, nor are they things I would ever think to talk about or even think to search for, they being things I'd never use, but for some reason Google has concluded that they are "on topic" to my website and so display these ads frequently.

Here is what Chitika looks like. And you will notice that the Chitika ad looks nearly identical to the Google one, except it only ever displays text links and never banners. --->
Like Google, Chitika has some strange ideas about what adds it thinks are "on topic" to my website.
The biggest difference I see between Chitika and Google is that Google allows you to block ads should you find they are displaying ads you find offensive or inappropriate, and if Chitika has this feature, I've not yet found it in my dashboard.
This is especially good in the case of Google, because if you do not block them, Google will also display gambling, beer, cigarette, pornography (including actual video footage of sex taking place), drug, and other very adult (and bordering on being illegal) ads. The only way to prevent X and M rated ads from displaying on your site via Google is to go to your dashboard and block them manually. This is an important fact to consider before adding Google AdSence to your site, because these sorts of ads WILL show up on ANY website, even children's sites, if you do not tell Google specifically not to display them.

Chitika began making money within 12 hours of adding it to my site. Google began making money before the end of the first week after adding it.

Print on Demand (POD)
Direct Sale of Products

My top money maker, however is not an affiliate program, but rather Zazzle.com where I sell my art on t-shirts, mugs, cards, keychains, etc. This brings in $200 to $600 a month. Below are examples of my Zazzle products: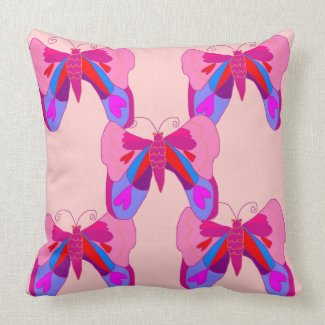 Reversible Pillow - Pink Butterfly by eelkat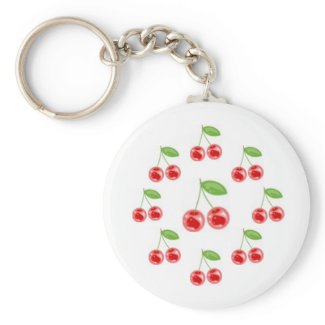 happy cherries, happy cherries, happy cherries,... keychains by eelkat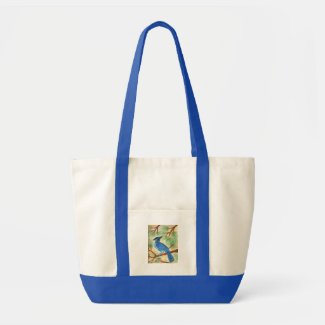 Blue Jay Watercolor by Wendy C Allen Bags by pidgiefund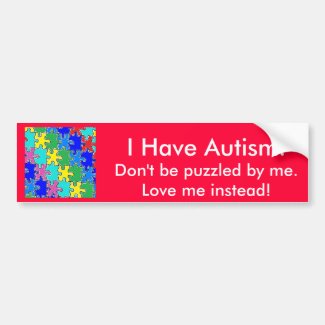 autism puzzle pieces 40 bumper stickers by PuzzledByAutism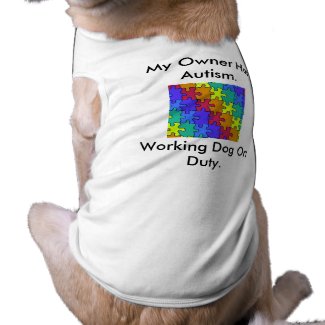 Autism Service Dog Uniform T-Shirt Doggie Shirt by PuzzledByAutism

Ads by Google
---
The End?

No, you have NOT reached the end of this article! What you have reached is the end of what it currently online. The rest is coming, hopefully it'll be on here in a day or three so keep checking back. I will remove this message at the same time I put the rest of it online.
As my long time readers will already know a server crash took down most of the old free-hosted site on June 4, 2013 (which was online since 1997 and had reached 6,000+ pages). Thankfully everything was saved on a separate hard-drive and the site is being rebuilt with a new host and for the first time on it's own domain. YAY!

I am currently moving all 6,000 questions&answer articles to this site one page at a time, at a rate of about 4 to 7 new pages being added each day, so be patient. Not all links are yet clickable. This process started on September 2, 2013 and will be ongoing at least through to January 2014. (And it may be well into 2017 before all 6,000 pages will be back online if I continue at this rate of 5 a day.)
---
---
Your Questions Answered

Who can I contact if my questions are not answered here?

---
Looking To Connect With the REAL EelKat?
❤️ ❣️ ☮

Below is a list of the ACTUAL, REAL, OFFICIAL online accounts owned and managed by me:
on Amazon:  ► http://www.amazon.com/author/eelkat
on FaceBook - Profile:  ► http://www.facebook.com/EelKat

on FaceBook - Fan Page:  ► https://www.facebook.com/EelKatWendyCAllen
on FaceBook - Writer's Group:  ► https://www.facebook.com/ShortStoryWriters
on Google+:  ► https://plus.google.com/+EelKat/posts/p/pub
's Home Page:  ► http://www.EelKat.com
on Instagram:  ► https://www.instagram.com/eelkat
on Itch.io:  ► https://eelkat.itch.io

on MySpace:  ► https://www.MySpace.com/eelkat

on Pinterest:  ► https://www.pinterest.com/eelkat
on Spoonflower:  ► http://www.spoonflower.com/profiles/eelkat
on Steam:  ► http://steamcommunity.com/id/eelkat
on Tumblr: ► http://eelkat.tumblr.com
on Twitter:   ► https://twitter.com/EelKat
on YouTube - Subscribe Today! ► https://www.youtube.com/user/EelKat
on Zazzle:  ► http://www.zazzle.com/eelkat
❤️ ❣️ ☮
Looking for the Quaraun books? The original Unicorn Porn #Yaoi short stories are no longer available, but are currently being compiled in chronological order and republished as novels. The new Kindle novel editions can be found here:   http://tinyurl.com/Quaraun 
Interviews about the Quaraun series: 
❤️ ❣️ ☮
Hugs and kisses to my wonderful fans. Love you all! Talk to you again soon.  
If it ain't on this list, it's probably fake.
~EK 
---
Throughout 2013 - 2015 a slew of FAKE "EelKat" accounts surfaced, both on social networks and on forums, most were created by a woman calling herself Kendra Silvermander, or her backhoe driving cousin who drove a backhoe over my house, the same woman and her family who cut the heads off my cats, are the same people who hacked my online accounts, created a slew of fake accounts and pretended to be me, after they beat me up on November 14, 2013, leaving me paralyzed for 5 months, relearning to walk for 18 months, and clueless to their impersonation of my online due to my life threatening crippled state that had me offline from November 2013 to March 2016.
Who they are and why they are doing this remains unknown. If you know the identity of these people, please contact the FBI in charge of the investigation into their murder attempts on my life:
Agent Andy Drewer
of the Portland FBI
@ 207-774-9322 

NOTE: I was very active on forums from 1997 to 2007 and have RARELY used a forum since then. Other then the Warriors Forum and Absolute Write I have not posted on ANY forums AT ALL since 2012.
Note: My old inactive forum accounts were hacked and "resurrected" in 2013/2014/2015 by a psychotic NaNoWriMo ML who is upset over my having won a total of 27 writing contests/challenges and published 130+ novels since 2004 and and apparently (according to her emails) she has yet to win or publish anything.
If you see "me" posting on a forum at any point after 2012, know that it is likely this mysterious, and still yet unidentified "Kendra Silvermander".
More information about Kendra Silvermander and what she did can be found here.
Let's think about something here...
I'm just a harmless old lady who likes to dress like and Elf and paint everything pink and write stories about Elves having sex with Unicorns. For THAT, the residents of Old Orchard Beach, call me crazy, build a bomb, blow up my house, stand in my drive way and shoot at me, kidnap my cats, cut my cats' heads off, nail my cats' heads to my door, beat my 28 year old Shetland pony's head in, drive a back hoe over my house 3 times, filled my motorhome with feces 3 feet deep, I was paralyzed for 5 months because they trespassed up in here and beat me up, 3 years later I finally recover and start walking again and they beat me up again this time with a shopping cart rupturing 3 discs in my spine while screaming "kill or be killed remember Saco Shaw's!" and they cut my car in half. I'm sorry, WHO exactly is the crazy person here? 
Yes, I wear pink ball gowns every day.
Yes I wear fake pointy ears and long white Rapunzel wigs.
Yes, I paint my cars, my motorhome, and my mailbox pink.
Yes, I write about Elves having sex with Unicorns.
So the fucking hell what?
I haven't set foot off my land in 40 years. The only time I have contact with people is when THEY trespass on my yard and invade my privacy. And you know what? I've always welcomed them with happy smiles and open arms, made them meals and served them tea, and spent the day happily chatting with any one and every one who wanted to visit me. I love it when you people stop by to visit me as it's the only time I have any one to talk to other then my cats... oh wait... I don't have ANYONE to talk to any more, now that sociopath freaks murdered them and nailed their heads to my door!
You call me crazy because I wear pink dresses, yet THESE THREE PEOPLE are the ones who built a bomb and blew up my house!
You call me crazy because I wear pink dresses, yet THESE THREE PEOPLE are the violent trespassers who stands in my drive way and shoot at me.
You call me crazy because I wear pink dresses, yet THESE THREE PEOPLE are the ones who kidnap my cats, cut my cats' heads off, nail my cats' heads to my door, beat my 28 year old Shetland pony's head in, drive a back hoe over my house 3 times, filled my motorhome with feces 3 feet deep, and cut my car in half.
I mean REALLY stand back and look around.
All I'm doing is wearing strange cloths. I'm not the violent animal abusing, bomb building, psychopath beating up elderly women... THEY are.
There's a hell of a big difference between a half blind elderly woman dressing up as comic book characters and not bothering one damned person, and violent psychopathic criminal creeps beating her up, bombing her house, driving a back hoe over 3 more of her houses, cutting her car in half, filling her motorhome with feces, murdering her horse, and slaughtering her cats!
Old Orchard Beach has a crazy person in it all right, but isn't me... and the residents of this town need to get off their asses and tell the FBI who this white haired man and his blond wife and red haired sister-in-law are BEFORE THEY KILL ME! The red haired woman calls herself Kendra Silvermander.
I don't know who this man and his two women are. They are strangers to me. I don't know their names. And I don't know why they are doing this. Some body in this town must know who these people are ... PLEASE... the FBI is trying to put a stop to these insane hate crimes... PLEASE if you know who these psychopathic monsters are, PLEASE tell Agent Andy Drewer before they kill me. They cut my car in half in 2010. They cut my cats in half in 2015. How long do you think it'll be before they cut ME in half too? PLEASE HELP ME!
➽ ➽ ➽ If you have any information regarding the identity of the stalker/attacker/driver of the 4-door white pick-up truck please contact Officer Tim DeLuca of the Old Orchard Beach Police Department @ 207-934-4911 and/or
Agent Andy Drewer
of the Portland FBI
@ 207-774-9322 
 ◀️ ◀️ ◀️ ☎️
Please help the police and FBI put this brutal, violent, psychotically deranged stalker family in prison.
Have Information?

Call FBI Agent Andy Drewer @ (207) 774-9322 
Need Directions?
Rather then ask the crazy gun-toting neighbours, and risk get shot by the psychotically deranged, white power gay haters that live up and down my street, patrolling obsessively by my driveway every 15 minutes in a 4 door white pick-up truck, just get directions from Google Maps. Here, you can find 146 Portland Avenue, Old Orchard Beach, ME right here:
---
Need Another Video To Watch?
---
I upload brand new videos to YouTube almost daily. Be sure to subscribe to my channel, then click the "bell button" to receive notifications of the latest releases.
---
---
---
---
---
---
---
---
---
---
---
---